news
Things to consider while buying a cute little car bed for your kid
by Priyanka Kamble on Mar 09, 2023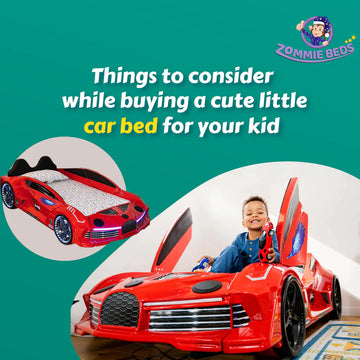 Every parent wishes to give the best to their kids. Ranging from good education to manners, etiquette, clothes, gifts and even sleep, parents always have a thirst to get their kids the best. With that said, many parents with small kids who are at the age of moving from their crib to their own bed wish to buy designer beds to make their kids sleeping experience fun and exciting. Thus most of them end up hunting for car beds which is an aesthetic addition to the kid's room.
Car beds can easily delight your children, make them feel playful while on their bed, enhance the learning experience and make it easy for the parents to put their babies to sleep. There are numerous advantages of having a car bed. But are you aware of the things you need to consider while buying a car bed? Here are a few things that you need to take into account:
Warranty
A car bed that comes with a warranty card is always a trusted purchase. With the latest technologies incorporated in car beds, they come with a remote control, night lights, music and a lot more similar features. To keep a check on the same and to ensure that these features of the car bed serve you for a stipulated time, make sure that you buy a car bed with a warranty so that you can opt for a replacement just in case these parts stop functioning. The warranty card will help you claim any damage caused within the mentioned time period.
Car bed design
These days' car beds are available in numerous designs and shapes. Whilst the design of a car bed cannot be overlooked, it all depends on the choice and liking of your kids. Ranging from Ferrari car beds to Mercedes to beds that look like trucks and other convertibles, there is no dearth of options when it comes to buying a car bed for your kids. Whatever the case, make sure that you buy a car bed for your kid as per their likes and dislikes so that it becomes easy for you to get them to sleep in a bed they love. Not only does a car bed give your kids a reason to be happy when you buy a car bed of their preferred choice, but it also strengthens your bond with your child.
Car bed size
Bed size is one of the essential factors that you should consider while buying a car bed. This decision is a lot dependent on the age and the height of your kids for whom you wish to purchase a car bed. If your kid is three to four years of age, a car bed of small size is enough to occupy space in your kid's bedroom. On the contrary, if you have a grown-up child at home, you might be required to buy a bigger car bed. Also, if you have two kids sharing the same bed, a big-sized car bed is what you may require for your home.
Price
Another important factor that cannot be overlooked while buying a car bed is its price. May it be a Ferrari car bed, a remote control car bed or a racing car bed, you need to check out your pockets to determine the budget you have for gifting your kids a wheeled sleeping paradise. The car bed prices may vary based on their design, quality, materials used, brand and model. A branded good quality car bed is indeed prone to be on the pricier side in comparison to an inferior quality car bed. But there are stores that sell high-quality car beds at affordable prices. To come across such a store, you must first determine your budget and shop around to compare the prices and make a final decision to buy a high-quality car bed for little ones.
Conclusion
These are the top factors you should consider while buying a car bed for your little ones. If your kids are at an age when they require a transition to a bigger bed, a racing car bed is one of the best gifts you can get to make their sleeping experience exciting. But make sure that you keep the above-mentioned points in mind to be accurate with your car bed selection.
Furthermore, if you have quandaries about where to buy a car bed, you can consider hitting the Zoomiebeds store to get a racing car bed for your toddler with LED lights and music. Also, you get the remote control car beds in different colours that you can buy for your kids in a colour of their choice. They have the best car beds in store that can be assembled in no time and are sturdy enough to keep your kids safe even when they jump around on the beds like a monkey. What's more? Zoomiebeds also has a wide range of toys, baby gear and toy rides that you can buy for your kids to give them happiness!