news
How can you come up with the best ideas for a toddler's room?
by Priyanka Kamble on Mar 09, 2023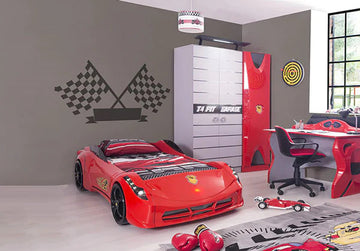 Your infants is becoming a toddler, which means it's time to move them from the nursery to a bedroom for an older kid. It's a terrific idea to design a bedroom with toddler-friendly features, like a Race Car Bed, but that can also be readily changed over the years to grow with your child.

A toddler is a youngster who is between the ages of one and three, according to definition. These are years of rapid and extensive emotional, physical, and intellectual growth. The correct setting can promote physical development, fine motor skills improvement, and enhancements in vision, hearing, speech, and social development in toddlers.
When a toddler is prepared to go from a crib to a bed, that is the point at which a toddler's room should be constructed. There is no specific age for this; some kids transfer around 18 months, while many kids are more prepared by age 3. The main concern is whether or not your child will be able to sleep in a bed without frequently getting out of it.

If you're expecting a new baby, for instance, moving your toddler to another room or making the present bedroom more kid-friendly are two ways to help with the process. Choosing an appropriate bed is the first step; whether it is a toddler bed or not, it must appeal to your child.